Rui Cardo Suggestions presenta grandi classici e perle nascoste, versioni ufficiali e live ricercati.

Enjoy! 😉
Dennis Brown - Concrete Castle King
Album
Visions of Dennis Brown is a 1978 reggae album by Dennis Brown.
Recording
The album was the first to come out of Brown's second stint with producer Joe Gibbs, with whom he would have his breakthrough international success, and the album played a major part in establishing the dominant position of both Brown and Gibbs in late 1970s reggae.
The album mixes roots reggae themes such as economic hardship, African oppression, religion, and politics, with lovers rock material ("Love Me Always") and a cover version of Ray Charles' "This Little Girl of Mine". It was engineered by Errol Thompson and features veteran musicians Bobby Ellis (trumpet), Vin Gordon (trombone), Herman Marquis (alto saxophone), and Tommy McCook (tenor saxophone).
Release history
The album was originally released in 1978 on the Lightning, Laser, and Joe Gibbs labels. It was reissued on JGML in 1980 and issued for the first time on compact disc in 1989 by Shanachie Records. It was reissued in expanded form in 2006 on the Joe Gibbs Europe label, and reissued again in 2007 on the VP Records subsidiary 17 North Parade.
---
Artist
Dennis Emmanuel Brown CD (1 February 1957 – 1 July 1999) was a Jamaican reggae singer.
During his prolific career, which began in the late 1960s when he was aged eleven, he recorded more than 75 albums and was one of the major stars of lovers rock, a subgenre of reggae. Bob Marley cited Brown as his favourite singer, dubbing him "The Crown Prince of Reggae", and Brown would prove influential on future generations of reggae singers.
---
Dennis Emanuel Brown (Kingston, 1º febbraio 1957 – Kingston, 1º luglio 1999) è stato un cantante giamaicano. È considerato come uno dei più grandi cantanti reggae insieme a Bob Marley, e fu proprio Marley a dargli il titolo di "The Crown Prince of Reggae".
Da ricordare la collaborazione con Stevie Wonder con cui scoprì Frankie Paul che fu subito influenzato dalla voce di Dennis. In più ebbe una propria etichetta dedicata a sua moglie Yvonne, la "Tvonne's Special".
La morte è avvenuta il 1º luglio 1999 dopo un festival tenutosi in Brasile, a fine giugno, svolto assieme alla sua band, i "Lloyd Parks and We the People" e artisti come Gregory Isaacs ed altri pilastri del roots reggae.
Appena arrivato in Giamaica, si ammalò, subendo crisi respiratorie e febbre alta; pare sia morto di polmonite ma non si è mai accertato.
L'ultimo saluto è stato tenuto dalle " Twelve Tribe Of Israel " di cui lui faceva parte.
L'addio si è tenuto il 17 luglio 1999 nello stadio "National Arena" di Kingston, dove si sono riunite migliaia di persone e con la visita di addirittura due leader giamaicani: P.J. Patterson e il suo rivale Edward Seaga.
La cerimonia includeva un tributo musicale della durata di tre ore e mezza nella quale hanno cantato accompagnati dalla band di Brown, vari artisti come Gregory Isaacs, Pam Hal e tanti altri ma la partecipazione che ha suscitato più emozione è stata quella di Mikey Spice che per l'occasione fu rilasciato dal carcere tramite un permesso speciale.
Alla fine della cerimonia è stato seppellito nel luogo dove giacciono eroi nazionali come Marcus Garvey, Paul Bogle e Bustamante.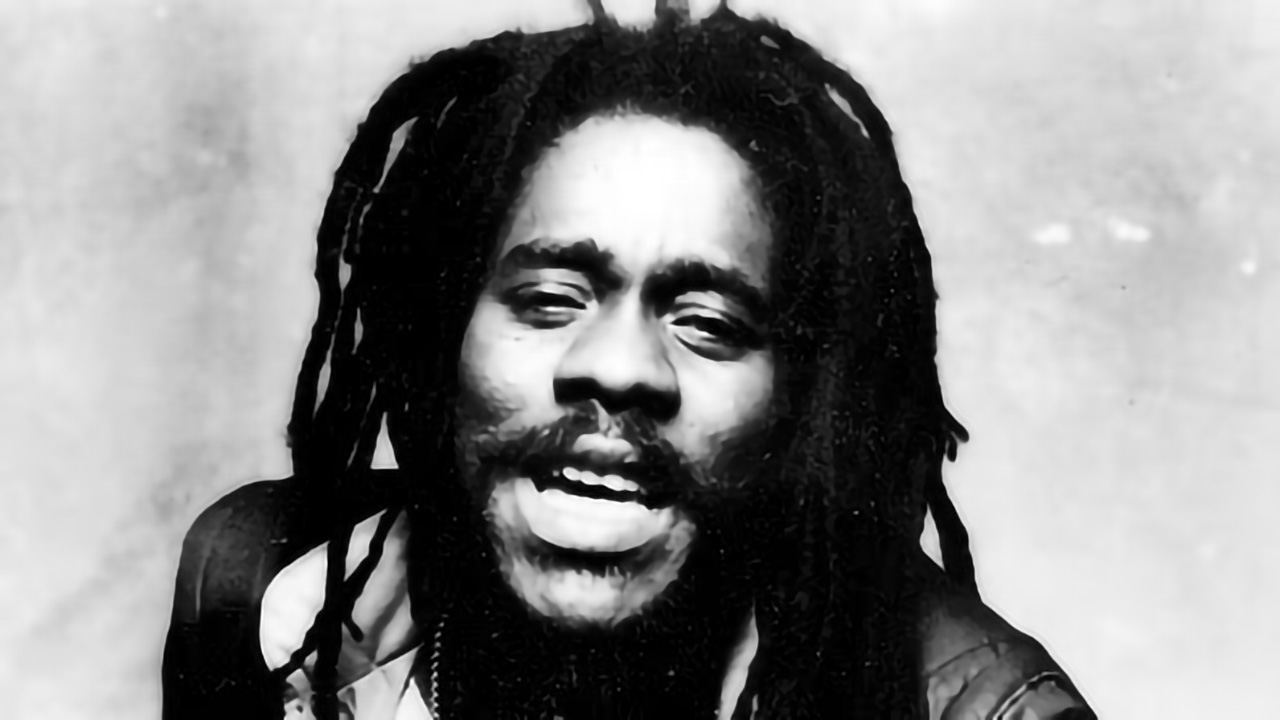 Lyrics
Concrete castle king, won't you give us a helping hand?
Concrete castle king, I hope you will understand
We're suffering
Living in your concrete castle on the hill
You don't know what life is like in the ghetto
Living in a two-by-four with no place to walk around, no-no
While you're in a castle all alone
I said concrete castle king, won't you give us a helping hand?
Concrete castle king, I hope you will understand
We're suffering, yeah
Life isn't easy in the ghetto, no
It's hard to keep from getting into trouble
The temptation is great
And you don't have no-one to say "Don't do it"
No no no no
Concrete castle king, we do need your help
Woooaah, yeah
Many days we stand in the rain and sun
Waiting for the bus that never comes
You pass by in your fancy car
Wearing a plastic smile and smoking a big cigar
So concrete castle king, won't you give us a helping hand?
Concrete castle king, I hope you will understand
We're suffering, wooooaahhh yeah
We're suffering
We do need your help, yeah
Concrete castle king
Testo
Re del castello di cemento, non ci dai una mano?
Re del castello di cemento, spero che capirai
stiamo soffrendo
Vivere nel tuo castello di cemento sulla collina
Non sai com'è la vita nel ghetto
Vivere in un due per quattro senza un posto dove andare in giro, no-no
Mentre sei in un castello tutto solo
Ho detto re del castello di cemento, non ci dai una mano?
Re del castello di cemento, spero che capirai
Stiamo soffrendo, sì
La vita non è facile nel ghetto, no
È difficile evitare di finire nei guai
La tentazione è grande
E non hai nessuno a cui dire "Non farlo"
No no no no
Re del castello di cemento, abbiamo bisogno del tuo aiuto
Woooaah, sì
Molti giorni stiamo sotto la pioggia e il sole
Aspettando l'autobus che non arriva mai
Passi con la tua bella macchina
Indossa un sorriso di plastica e fuma un grosso sigaro
Quindi re del castello di cemento, non ci dai una mano?
Re del castello di cemento, spero che capirai
Stiamo soffrendo, wooooaahhh sì
stiamo soffrendo
Abbiamo bisogno del tuo aiuto, sì
Re del castello di cemento