Rui Cardo Suggestions presenta grandi classici e perle nascoste, versioni ufficiali e live ricercati.

Enjoy! 😉
Social Distortion - Ball And Chain
Song
"Ball and Chain" is a hit song by Social Distortion, a Southern California punk rock band, written by Mike Ness in 1987, featured on their self-titled album, released in 1990, as well as on Live at the Roxy (1998).
In the words of lead singer/writer Mike Ness, "Ball and Chain" is "a hard luck story," a forceful cry, a lament, a plea, a "folk prayer."
---
Album
Social Distortion è il terzo album della omonima band californiana, pubblicato nel 1990. È universalmente riconosciuto come il loro capolavoro contenente i brani più conosciuti dei Social Distortion: Ball and Chain e Story of My Life.
---
Artist
I Social Distortion sono un gruppo punk rock formato nel 1978 a Orange County, California, e considerato tra più influenti gruppi della scena punk revival anni '80.
Attualmente il gruppo è formato da: Mike Ness (voce e chitarra), Jonny Wickersham (chitarra), Brent Harding (basso), e David Hidalgo, Jr. (batteria).
Il gruppo è stato fondato dal leader Mike Ness che è stato anche il principale problema della band: infatti i Distortion si sono sciolti nel 1985 dopo una sola pubblicazione, a causa del ricovero per riabilitazione del loro front-man; tuttavia hanno presto ricominciato la loro attività, che non si è fermata neanche dopo la morte del primo chitarrista Dennis Danell, stroncato nel 2000 da un aneurisma al cervello.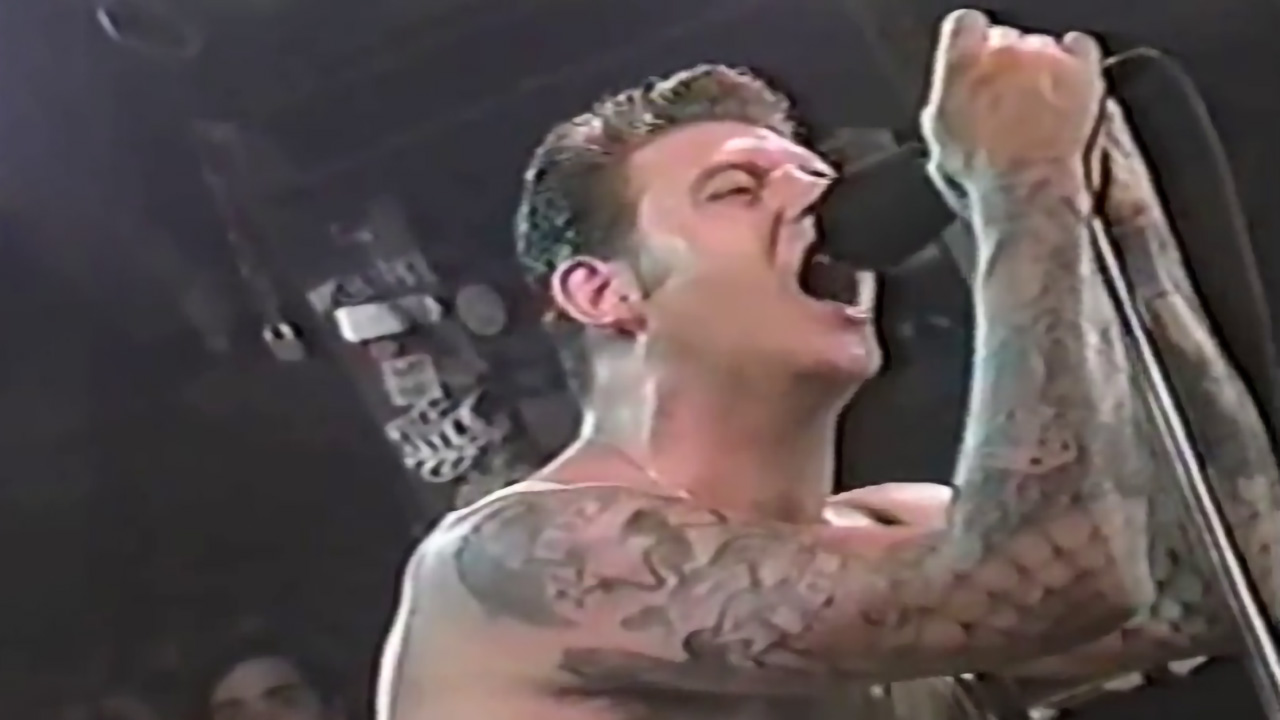 Lyrics
Well it's been ten years and a thousand tears
And look at the mess I'm in
A broken nose and a broken heart
An empty bottle of gin
Well I sit and I pray
In my broken down Chevrolet
While I'm singin' to myself
There's got to be another way
Take away, take away
Take away this ball and chain
Well I'm lonely and I'm tired
And I can't take any more pain
Take away, take away
Never to return again
Take away, take away
Take away
Take away this ball and chain
Well I've searched and I've searched
To find the perfect life
A brand new car and a brand new suit
I even got me a little wife
But wherever I have gone
I was sure to find myself there
You can run all your life
But not go anywhere
Take away, take away
Take away this ball and chain
Well I'm sick and I'm tired
And I can't take any more pain
Take away, take away
Never to return again
Take away, take away
Take away
Take away this ball and chain
Well I'll pass the bar on the way
To my dingy hotel room
I spent all my money
I've been drinkin' since half past noon
Well I'll wake there in the mornin'
Or maybe in the county jail
Times are hard getting harder
I'm born to lose and destined to fail
Take away, take away
Take away this ball and chain
Well I'm lonely and I'm tired
And I can't take any more pain
Take away, take away
Never to return again
Take away, take away
Take away
Take away this ball and chain
Testo
Beh sono passati dieci anni e migliaia di anni
E guarda in che casino sono
Un naso rotto ed un cuore spezzato
Una bottiglia vuota di gin
Beh mi siedo e prego
Nella mia Chevrolet rotta
Mentre canto a me stesso
Ci dev'essere un'altra strada
Porta via, porta via
Porta via questa palla al piede
Beh sono solo e sono stanco
E non posso sopportare più dolore
Porta via, porta via
Per mai più ritornare
Porta via, porta via
Porta via
Porta via questa palla al piede
Beh ho cercato ed ho cercato
Per trovare la vita perfetta
Un'auto nuova di zecca ed un completo nuovo di zecca
Mi sono perfino preso una piccola moglie
Ma ovunque io sia andato
Ero sicuro di trovare me stesso lì
Puoi correrre tutta la tua vita
Ma non andare da nessuna parte
Porta via, porta via
Porta via questa palla al piede
Beh sono malato e sono stanco
E non posso sopportare più dolore
Porta via, porta via
Per mai più ritornare
Porta via, porta via
Porta via
Porta via questa palla al piede
Beh passerò per il bar sulla strada
Verso la mia squallida camera d'albergo
Ho speso tutti i miei soldi
Sto bevendo dalla mezza
Beh mi sveglierò lì in mattinata
O forse nella prigione della contea
I tempi duri si stanno facendo più duri
Sono nato per perdere e destinato a fallire
Porta via, porta via
Porta via questa palla al piede
Beh sono solo e sono stanco
E non posso sopportare più dolore
Porta via, porta via
Per mai più ritornare
Porta via, porta via
Porta via
Porta via questa palla al piede