Rui Cardo Suggestions presenta grandi classici e perle nascoste, versioni ufficiali e live ricercati.

Enjoy! 😉
Grand Funk Railroad - We're An American Band
Song
"We're an American Band" (from the album of the same name) became Grand Funk Railroad's first No. 1 single released July 2, 1973. Written by Don Brewer and produced by Todd Rundgren, its huge chart success broadened Grand Funk's appeal. It was sung by drummer Don Brewer who began doing more lead vocals for the band and helped with their transition to making top 40 hits.
Lyrics
Brewer's lyrics are somewhat autobiographical, detailing the band's recent tour and their energetic live performances. In the song, Brewer mentions playing poker with blues great Freddie King, traveling through Little Rock, Arkansas, as well as stopping to party with four groupies who snuck into their hotel in Omaha, Nebraska. The lyrics also mention "sweet sweet Connie", in reference to the legendary Arkansas groupie Connie Hamzy.
The following story about an argument between Don Brewer and Humble Pie is completely fictitious. According to rock critic/writer Dave Marsh in his book, The Heart of Rock and Soul, Grand Funk was touring with the British group Humble Pie in early 1973. After one performance, the two groups were drinking in a bar when they began arguing over the merits of British versus American rock.
Grand Funk drummer Don Brewer stood up and after bragging about American rock heroes such as Jerry Lee Lewis, Fats Domino, Little Richard, and Elvis Presley, proudly announced, "We're an American band!" Thus inspired, he wrote the song the next morning; by late 1973, it was the top-selling song in the world. Brewer says "it never happened".
"We were good friends with the guys in Humble Pie and even asked guitarist Peter Frampton to join our band". Don says the song was written during the terrible period when their former manager Terry Knight was suing them and trying to keep them from touring as Grand Funk. The band desperately needed a hit record and Brewer came up with the song.
A video was also made, showing the band playing the song as well as engaging in activities such as basketball, dirtbike riding, and watersports.
The original single was released on gold transparent vinyl.
---
Album
We're an American Band is the seventh studio album by American hard rock band Grand Funk Railroad, credited as Grand Funk. The album was released by Capitol Records on July 15, 1973 (see 1973 in music) and was certified gold by the RIAA a little over a month after its release. Two singles were released from the album.
The first single, "We're an American Band", was released on July 2, 1973 and the second, "Walk Like a Man", was released on October 29, 1973. Both singles were sung by drummer Don Brewer. There is an addition to the band on this release - Craig Frost - who plays the organ, clavinet and Moog. Craig was credited as an additional musician on "Phoenix" which was released the previous year.
The album cover was originally covered in gold-colored foil on the outside, and the initial run of pressings were pressed in clear, dark yellow vinyl. The album has been reissued many times and is currently available in the Compact Disc format. A Quadraphonic mix of the album was available in the Quadraphonic 8-Track cartridge format.
---
We're An American Band è il settimo album del gruppo rock americano Grand Funk Railroad, accreditato come "Grand Funk", pubblicato il 15 luglio 1973 dall'etichetta Capitol Records. L'album, registrato ai Criteria Studios a Miami, ha ottenuto un grande successo, e col tempo è diventato disco di platino.
L'album vede l'entrata nella band del tastierista Craig Frost, già presente come turnista nell'album precedente della band Phoenix. il disco venne prodotto per la prima volta da Todd Rundgren, che produsse anche l'album successivo Shinin' On.
Dall'album vennero estratti due singoli, entrambi cantati dal batterista Don Brewer, il primo dei quali, la title-track dell'album, divenne un grande successo radiofonico e uno dei brani più famosi della band.
---
Artist
Grand Funk Railroad, sometimes shortened as Grand Funk, is an American hard rock band popular during the 1970s, when they toured extensively and played to packed arenas worldwide. David Fricke of Rolling Stone magazine once said, "You cannot talk about rock in the 1970s without talking about Grand Funk Railroad!"
Known for their crowd-pleasing arena rock style, the band was well-regarded by audiences despite a relative lack of critical acclaim. The band's name is a play on words of the Grand Trunk Western Railroad, a line that runs through the band's home town of Flint, Michigan.
---
I Grand Funk Railroad sono un gruppo hard rock statunitense, molto popolare soprattutto in patria, della fine degli anni sessanta e settanta. Il nome della band è un gioco di parole sulla Grand Trunk Railroad, una linea ferroviaria che attraversava Flint, città natale del trio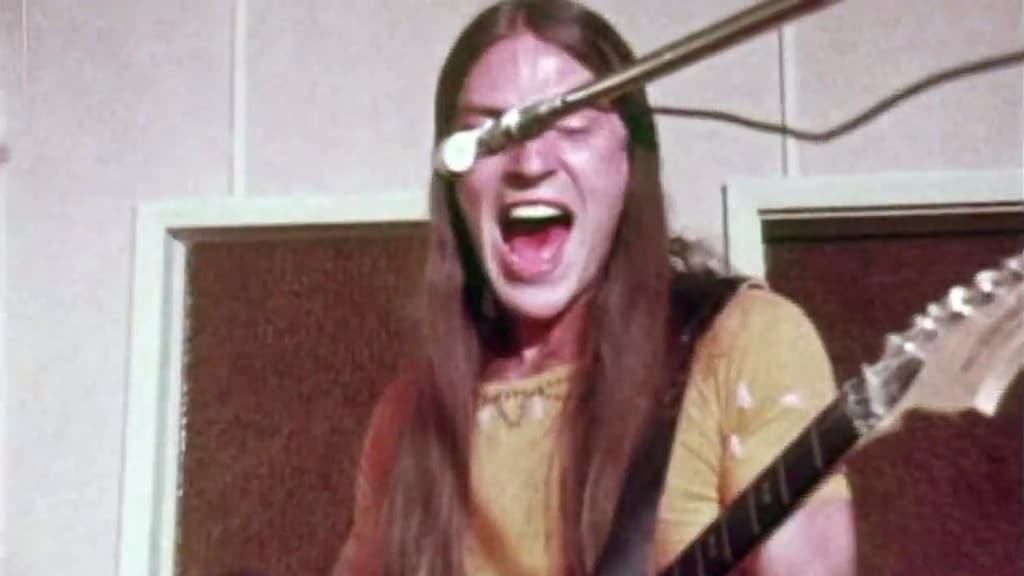 Lyrics
Out on the road for forty days
Last night in Little Rock put me in a haze
Sweet, sweet Connie, doin' her act
She had the whole show and that's a natural fact
Up all night with Freddie King
I got to tell you, poker's his thing
Booze and ladies, keep me right
As long as we can make it to the show tonight
(chorus)
We're an American band (x2)
We're comin'
to your town
We'll help you party it down
We're an American band
Four young chiquitas in Omaha
Waitin' for the band to return from the show
Feelin' good, feelin' right, it's Saturday night
The hotel detective, he was outta sight
Now these fine ladies, they had a plan
They was out to meet the boys in the band
They said, come on dudes, let's get it on
And we proceeded to tear that hotel down
(chorus)(x4)
We're an American band, wooo (x3)
Testo
In viaggio per quaranta giorni
Ieri sera a Little Rock mi hai messo in confusione
Dolce, dolce Connie, sta recitando
Ha avuto l'intero spettacolo e questo è un fatto naturale
Per tutta la notte con Freddie King
Devo dirtelo, il poker è la sua passione
Alcol e signore, tenetemi bene
Finché possiamo arrivare allo spettacolo stasera
(rit)
Siamo una band americana (x2)
Stiamo arrivando
nella tua città
Ti aiuteremo a festeggiare
Siamo una band americana
Quattro giovani chiquitas a Omaha
Aspettando che la band ritorni dallo spettacolo
Mi sento bene, mi sento bene, è sabato sera
Il detective dell'hotel, era fuori dalla vista
Adesso queste belle signore avevano un piano
Erano fuori per incontrare i ragazzi della band
Dissero, dai ragazzi, andiamo avanti
E abbiamo proceduto a demolire quell'hotel
(rit) (x4)
Siamo una band americana, wooo (x3)