Rui Cardo Suggestions presenta grandi classici e perle nascoste, versioni ufficiali e live ricercati.

Enjoy! 😉
Grimes - Oblivion
Inquietante il contrasto tra la musica allegra e pop e il testo forte come racconta in questa intervista Grimes.
---
Song
"The song is about being violently assaulted and it made me crazy for a few years. I got really paranoid walking around at night and started feeling really unsafe. The song is more about empowering myself physically amongst a masculine power, and the hate of feeling powerless, making light of masculine physical power, making it jovial and non-threatening. I took a typically violent cultural situation and made it pop and happy."
---
"La canzone parla di quando sono stata violentemente aggredita e mi ha fatto impazzire per alcuni anni. Sono diventata davvero paranoica andando in giro di notte e ho iniziato a sentirmi davvero insicura. La canzone riguarda più il potenziamento fisico di me stessa contro il potere maschile e l'odio impotente del sentimento scaturito, facendo luce sul potere fisico maschile, rendendolo gioviale e non minaccioso. Ho preso una situazione culturale tipicamente violenta e l'ho resa pop e felice".
Oblivion è un singolo della musicista canadese Grimes, pubblicato il 20 gennaio 2012 come secondo estratto dal terzo album in studio Visions.
Il videoclip della canzone è stato reso disponibile il 3 marzo 2012.
---
Album
Visions è il terzo album in studio della cantante canadese Grimes, pubblicato nel gennaio 2012 dall'etichetta 4AD.
Il disco è stato registrato attraverso il software della Apple GarageBand nell'appartamento di Grimes a Montréal in circa tre settimane. Successivamente è stato mixato con Sebastian Cowan presso il La Brique Studio Space.
Il primo singolo estratto è stato Genesis (9 gennaio 2012), seguito da Oblivion (20 febbraio 2012).
Il video della canzone Oblivion, diretto da Emily Kai Bock, è stato pubblicato nel marzo 2012. Nel maggio seguente è stato diffuso il video di Nightmusic, diretto da John Londono. La stessa Grimes ha invece diretto il video di Genesis, pubblicato nell'agosto 2012 e girato a Los Angeles insieme a Brooke Candy.
---
Artist
Grimes, pseudonimo di Claire Elise Boucher (Vancouver, 17 marzo 1988), è una musicista e cantante canadese.
Attiva anche come disegnatrice e regista di videoclip musicali, ha pubblicato il suo album in studio d'esordio Geidi Primes nel 2010.
Biografia
Nata e cresciuta a Vancouver, è di origini ucraine ed inglesi. Nella città della Columbia Britannica per 11 anni si dedica alla danza classica, mentre all'età di 18 anni si trasferisce a Montréal, dove frequenta la McGill University e inizia ad approcciarsi alla musica sperimentale.
Inizia a comporre fin dagli esordi e a registrare del materiale con il nome Grimes, in omaggio al genere musicale del grime, che ha conosciuto grazie al sito MySpace, dove pubblica i suoi primi esperimenti con la musica.
Il progetto le arreca fortuna e Claire comincia a concentrarsi su questa attività, iniziando a saltare alcune lezioni di università, la quale, da parte sua, decide di espellerla. Inizia quindi ad organizzare concerti e radunare diversi musicisti sperimentali con cui collabora per la fondazione di una sala prove chiamata Lab Synthèse.
Vita privata
Dal 2018 viene chiamata c nella vita privata, ed è legata sentimentalmente all'imprenditore Elon Musk, con il quale ha avuto un figlio, nato il 4 maggio 2020 e chiamato X Æ A-Xii (originariamente, X Æ A-12).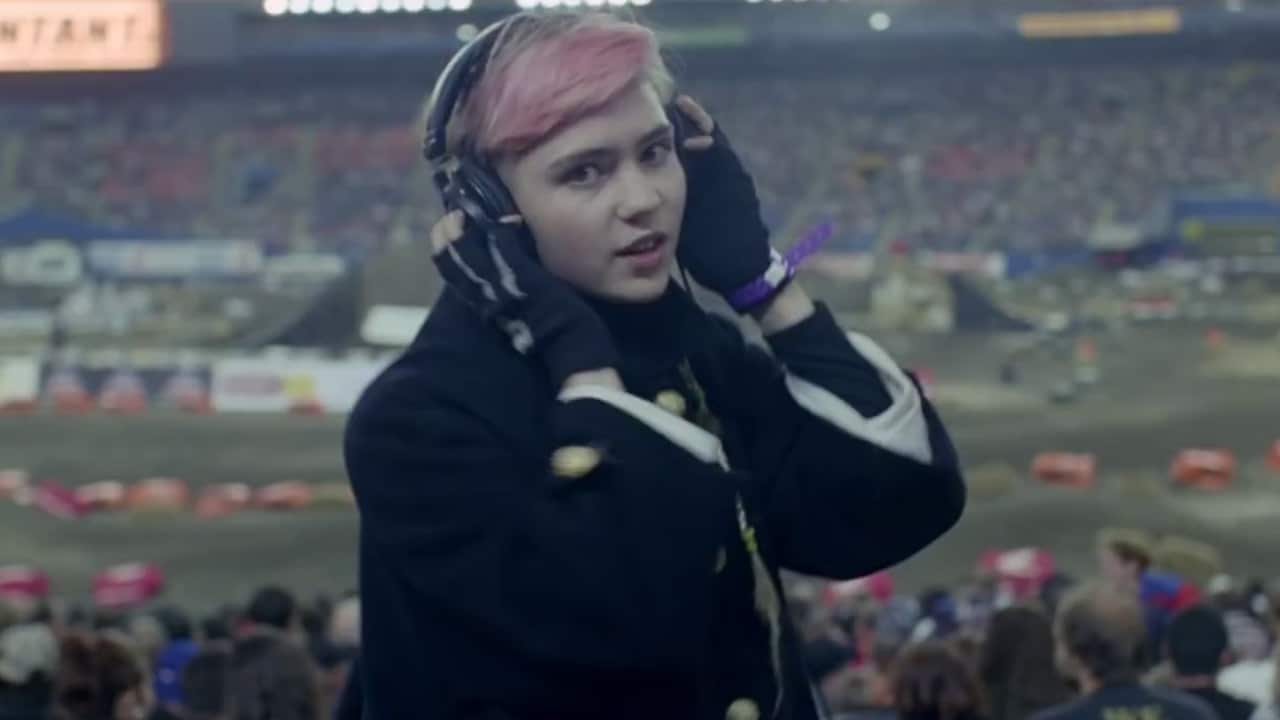 Lyrics
This ain't a song for the broken-hearted
No silent prayer for the faith-departed
I ain't gonna be just a face in the crowd
You're gonna hear my voice
When I shout it out loud
(chorus)
It's my life
It's now or never
I ain't gonna live forever
I just want to live while I'm alive
(It's my life)
My heart is like an open highway
Like Frankie said, "I did it my way"
I just wanna live while I'm alive
It's my life
This is for the ones who stood their ground
For Tommy and Gina who never backed down
Tomorrow's getting harder make no mistake
Luck ain't even lucky
Got to make your own breaks
(chorus)
Better stand tall when they're calling you out
Don't bend, don't break, baby, don't back down
(chorus)
(chorus)
Testo
Questa non è una canzone per i cuori infranti
Nessuna preghiera silenziosa per i defunti
Non sarò solo un volto tra la folla
Sentirai la mia voce
Quando urlerò a voce alta
(rit.)
È la mia vita
E' ora o mai più
Non vivrò per sempre
Voglio solo vivere mentre sono vivo
(È la mia vita)
il mio cuore è come un autostrada libera
Come ha detto Frankie, "ho fatto a modo mio"
Voglio solo vivere mentre sono vivo
È la mia vita
Questo è per quelli che sono rimasti al loro posto
Per Tommy e Gina che non si sono mai voltati
Domani sarà più difficile non commettere errori
Nemmeno la fortuna è fortunata
Devi crearti il tuo destino
(rit.)
Meglio puntare in alto quando ti affrontano
Non piegarti, non spezzarti, baby, non voltarti
(rit.)
(rit.)