Rui Cardo Suggestions presenta grandi classici e perle nascoste, versioni ufficiali e live ricercati.

Enjoy! 😉
London O'Connor - Nobody Hangs Out Anymore
Album
O∆ (Circle Triangle) Self-Released in 2015.
At first glance, London O'Connor's debut may seem like an almost amateurishly simple album, with chintzy synth sounds, drum beats straight off an old Casio, and major-key melodies that project an aura of Daniel Johnston-like naivete. He's a true eccentric, but O∆ is a technically masterful collection with universal appeal.
---
Artist
London O'Connor is 24 years old, but outside of that basic fact, seems very much a teenager. He's successfully avoided accumulating even the basic trappings of adulthood—the only things he seems to own are a skateboard, a backpack full of clothes, and some portable gear, and he exists in sort of a perpetual cruise around New York City, crashing on the couches of friends in between peregrinations.
His Tumblr posts and interviews so far have had a slumber-partyish confessional quality, and he's quick to bring up the fact that he didn't lose his virginity until just before his 21st birthday. He's got a babyface, an unguarded smile, and the struggle dirt stache of someone who hopes the guy at the door thinks his fake I.D.'s legit.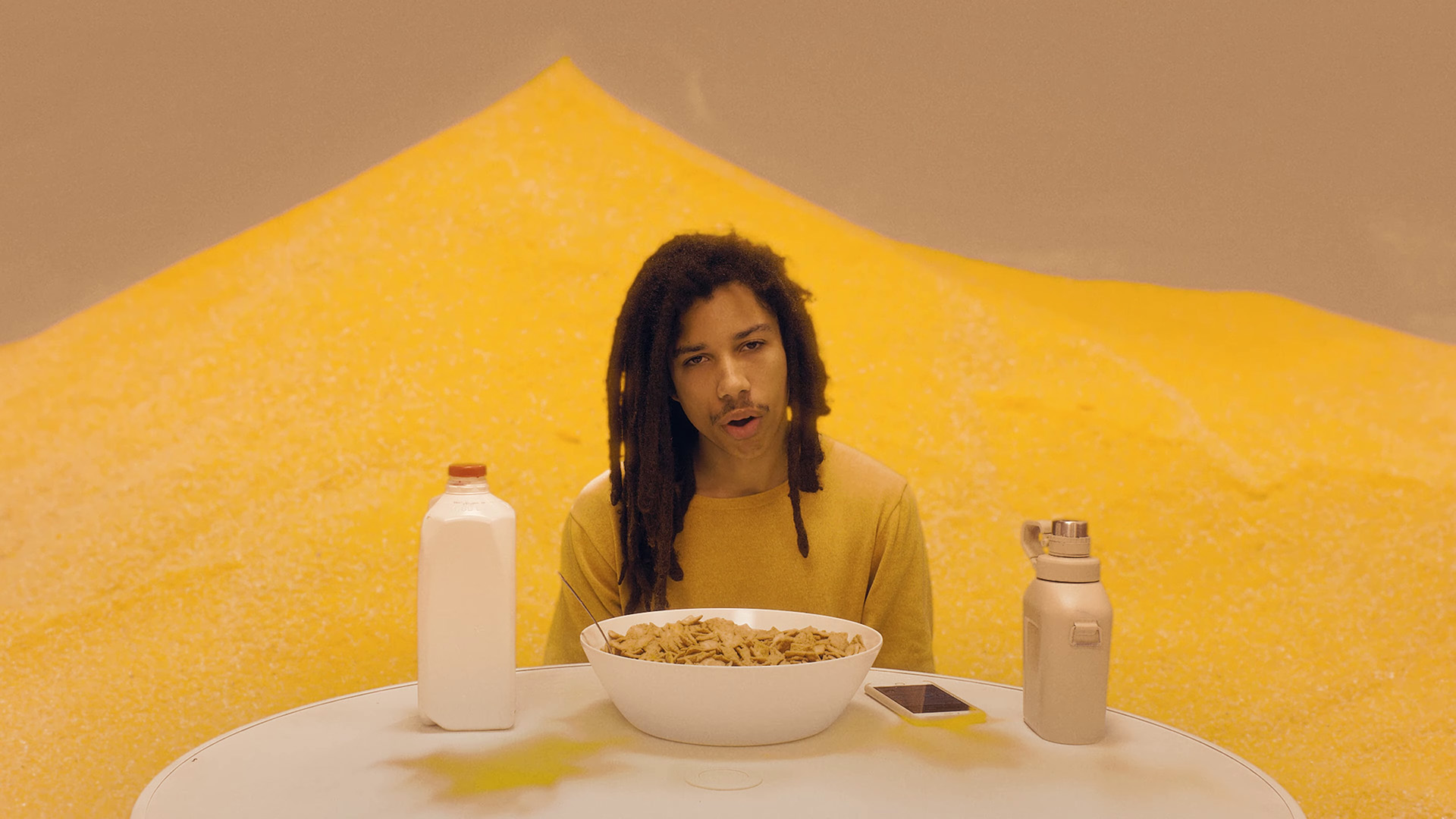 Lyrics
Outside my window there's a cave
Beyond that, I couldn't say
We sit inside and watch the tube
All my friends are on the net
And all my friends are in the net And all of us are out of it
And none of us are into it And everything I intuit
Says that we goin' on a ride for joy
All along for the girls and boys
Create, destroy, make, destroy
Inside your pocket there's a way
We used to travel out for days
But what's the point
We came unglued
Nobody hangs out anymore, in real, in real (x4)
All my friends are on the net
And all my friends are in the net And all of us are out of it
And none of us are into it And everything I intuit
Says that we goin' on a ride for joy
All along for the girls and boys
Create, destroy, make, destroy
Nobody kicks it
Everybody wants it
Nobody gets it
Nobody hangs out anymore, in real, in real (x8)
Testo
Fuori dalla mia finestra c'è una grotta
Oltre a questo, non saprei dire
Ci sediamo dentro e guardiamo il tubo
Tutti i miei amici sono in rete
E tutti i miei amici sono nella rete E tutti noi ne siamo fuori
E nessuno di noi è coinvolto E tutto ciò che intuisco
Dice che andremo a fare un giro per la gioia
Da sempre per i ragazzi e le ragazze
Crea, distruggi, crea, distruggi
Dentro la tua tasca c'è un modo
Andavamo fuori per giorni
Ma qual è il punto
Ci siamo scollati
Nessuno esce più, veramente, veramente (x4)
Tutti i miei amici sono in rete
E tutti i miei amici sono nella rete E tutti noi ne siamo fuori
E nessuno di noi è interessato E tutto ciò che intuisco
Dice che andremo a fare un giro per la gioia
Da sempre per i ragazzi e le ragazze
Crea, distruggi, crea, distruggi
Nessuno lo prende a calci
Lo vogliono tutti
Nessuno lo capisce
Nessuno esce più, veramente, veramente (x8)